<< River Oaks
Schedule for Thu Oct 30, 2014 >>
Thu Oct 30, 2014
Class
Instructor

Workshops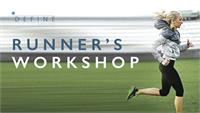 DEFINE Runner's Workshop

with

Jennifer

Harkins
Next held on Sun, Nov 23, 2014 at 1:00 pm - 2:00 pm
This
enrollment
runs from Sun Nov 23, 2014 - Sun Nov 23, 2014
Racing a marathon, half marathon, or a 10k is an amazing feat. It takes lots of mental and physical determination. If you're not careful, it also wreak havoc on the body. Keep your body healthy for optimal performance through the DEFINE Runner's Workshop.
This workshop will combine elements of our body, mind and yoga classes to alleviate tension within the cellular walls of the very same muscles used for training.
Your kinetic chain from hips, to knees to ankles will benefit from a routine that will not only lengthen the muscle but helps with range of motion, muscles tightness, flexibility and ultimately physical performance.
If you want to go the distance in your upcoming race, go the extra mile and take care of your body.
Running or tennis shoes are required for this workshop.
Learn More
Join the DEFINE Houston Facebook community

for news, events, and more about the studio and instructors.

Find Us >>